Tigre Blanco = The White Tiger (Paperback)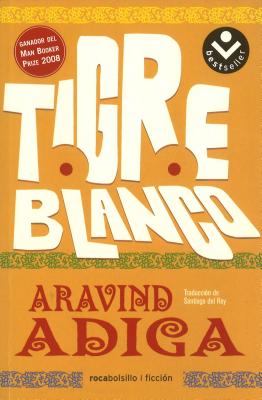 Staff Reviews
---
C'mon – you want to succeed in life, don't you? Do you feel that it's
society holding you back – its rules and mores and such? do you ever
just want to forge your own path? Take a listen to what Balram Halwai
has to say about his rise to fame (or is it infamy?) in modern day India
– you'll never forget the conversation and learn a thing or two about
life and death.
— Raul
Spring/Summer '09 Reading Group List
---
"Balram Halwai, living in contemporary India, is a man with aspirations and dreams he fears will never be realized considering his current position as a chauffeur and servant of the wealthy in a society with an absurdly large gap between rich and poor. As he takes it upon himself to rise above the muck in a series of unethical and criminal actions, The White Tiger will challenge your concepts of right and wrong and make you feel guilty for laughing along the way."
— Jon Stich, DIESEL, A Bookstore, Oakland, CA
Fall '09/Winter '10 Reading Group List
---
"Balram Halwai narrates his tale through letters written to the Premier of China over a seven-day period and tells the story of how he climbed out of poverty and into the life of a successful entrepreneur. In telling his story, The White Tiger opens a window onto the chaos and inequality of Indian society."
— Cynthia, Paulina Springs Books, Sisters, OR