JENNIFER RUSTGI & ASHLEY WHITE - A Moon Of My Own
Sunday, September 4th at 2PM
Local Author
JENNIFER RUSTGI
& Local Illustrator
ASHLEY WHITE
speaking & signing
A Moon of My Own
---
BookPeople is delighted to welcome local author Jennifer Rustgi and illustrator Ashley White for the launch of A Moon of My Own! Children will have the opportunity to have their passports stamped for all seven continents, and there will be a discussion and demonstration of lunar cycles and moon facts. All in all, a wonderful event for anyone with an active imagination. Join us this afternoon at 2PM.
---
ABOUT A MOON OF MY OWN
An imaginative young girl travels the world with her faithful companion, the moon. In her enchanted adventure she visits all seven continents while the moon goes through its cycle of phases as portrayed in silhouetted art. "Explore More" sections for kids and adults offer information and activities on phases of the moon and other aspects of astronomy and geography.
---
ABOUT JENNIFER RUSTGI
Jennifer Rustgi developed a love of children's literature during her years teaching reading as an elementary school teacher and became inspired to write her own stories through her experiences with her young daughter. She lives in Austin, TX with her family. A Moon of My Own is her second children's book.
---
ABOUT ASHLEY WHITE
Ashley White is a graphic artist with an eye for all things fabulous + creative. She lives just outside of Austin with her husband, daughter, + handsome dog, Tsavo.
---
If you cannot attend the event and would like to order a signed copy of the book, add the book to your cart and put SIGNED COPY in the comments field at checkout. We ship all over the world!
Thank you for supporting Jennifer Rustgi, Ashley White and your local independent bookstore!
Event date:
Sunday, September 4, 2016 - 2:00pm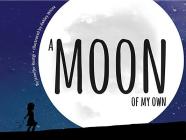 Email or call for price
ISBN: 9781584695721
Availability: Out of Print
Published: Dawn Publications (CA) - September 2016
---