JOE HOLLEY AND PETER BROWN-Hometown Texas
Wednesday, March 7 at 7PM
Authors
JOE HOLLEY AND PETER BROWN
speaking & signing
Hometown Texas
---
ABOUT HOMETOWN TEXAS
Hometown Texas is an exploration across miles and cultures, of well-traveled roads and forgotten byways, deep into the heart of Texas. Organized into five topographical, geographic, and cultural sections—East, West, North, South, and Central—three dozen stories and more than eighty complementary images create a parallel narrative to reveal what Brown has described as the "collective, various, remarkably complex soul that makes Texas unique."
---
ABOUT JOE HOLLEY
Joe Holley is a former editorial page editor and columnist for newspapers in San Antonio and San Diego and a staff writer for the Washington Post. He has been a regular contributor to Texas Monthly and the Columbia Journalism Review and is the author of two books, including a biography of football hero Slingin' Sammy Baugh. In 2009 he joined the Houston Chronicle, where his column "Native Texan" appears on Sundays.
---
ABOUT PETER BROWN
Peter Brown has photographed landscapes and small towns for twenty-five years. He is the author of Seasons of Light, On the Plains, and West of Last Chance, a collaboration with novelist Kent Haruf that won the Dorothea Lange–Paul Taylor Prize. His work has been collected by the Menil Collection, the Museum of Fine Arts Houston, MoMA New York, the Los Angeles County Museum of Art, the Getty Museum, and the San Francisco Museum of Modern Art.
---
If you cannot attend the event and would like to order a signed copy of the book, add the book to your cart and put SIGNED COPY in the comments field at checkout. We ship all over the world!
Thank you for supporting Joe Holley and Peter Brown and your local independent bookstore!
Event date:
Wednesday, March 7, 2018 - 7:00pm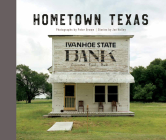 $32.50
ISBN: 9781595348074
Availability: On Our Shelves Now
Published: Maverick Books - November 7th, 2017
---