LINDSAY LESLIE - This Book is Spineless
Saturday, February 23 at 2 pm
Author
LINDSAY LESLIE
speaking & signing
This Book is Spineless
---
ABOUT THIS BOOK IS SPINELESS
This book must rely on its senses—and the reader—to help it navigate adventures at every page turn.
With suspense and humor, this wary and unadventurous book uses the five senses to try and figure out what kind of story might be on its pages.

Does it hear spooky wails from a ghost story?
Can it see a mysterious something peeking around a corner?
Is that the dizzy feeling of zero gravity it senses?
Might that be the stinky smell of animals in nature it detects?
Could it be tasting the saltiness of a story on the high seas?

The reader and book navigate the book's contents together, becoming friends as the book becomes braver with every page turn. This multilayered book incorporates the five senses, multiple literary genres, and various book parts, with the relationship between book and reader bringing everything together.
---
ABOUT LINDSAY LESLIE
Lindsay Leslie graduated from the University of Texas and has more than fifteen years of writing experience in marketing and public relations. Her blog "A Book and a Pie" reviews picture books and pairs them with fitting pie recipes. She lives with her husband and two boys in Austin, Texas.
---
To get a book signed at one of our events, a copy of the event book must be purchased from BookPeople. By purchasing a book from BookPeople, you are not only supporting a local, independent business, but you are also showing publishers that they should continue sending authors to BookPeople.
If you cannot attend the event and would like to order a signed copy of the book, add the book to your cart and put SIGNED COPY in the comments field at checkout. We ship all over the world!
Thank you for supporting Lindsay Leslie and your local independent bookstore!
Event date:
Saturday, February 23, 2019 - 2:00pm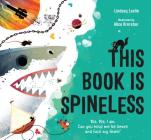 $17.99
ISBN: 9781624146589
Availability: On Our Shelves Now
Published: Page Street Kids - February 19th, 2019
---