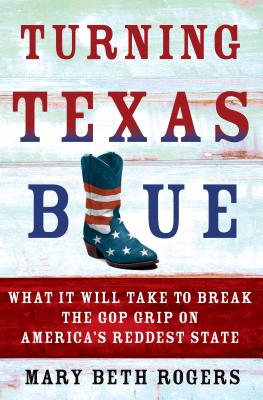 Sunday, February 21 at 3PM
Bestselling Author
MARY BETH ROGERS
speaking & signing
Turning Texas Blue: What it Will Take to Break the GOP Grip on America's Reddest State
Join us for an afternoon of political discussion as Mary Beth Rogers, the last person to run a successful campaign to put a Democrat, Ann Richards, in the governor's office, talks about how Democrats can punch holes in the big red political bubble that has covered Texas for 25 years. Change won't come easily, says Rogers. But if Texas shifts to even a pale shade of purple, it changes everything in American politics today. This is going to be a fascinating conversation - don't miss it!
---
ABOUT TURNING TEXAS BLUE
In the 2014 midterm election, Democrats in Texas did not receive even 40 percent of the statewide vote; Republicans swept the tables both in Texas and nationally. But even after two decades of democratic losses, there is a path to turn Texas blue, argues Mary Beth Rogers - if Democrats are smart enough to see and follow it.
Rogers is the last person to successfully campaign-manage a Democrat, Governor Ann Richards, to the statehouse in Austin. In a lively narrative, Rogers tells the story of how Texas moved so far to the right in such a short time and how Democrats might be able to move it back to the center. And, argues Rogers, that will mean a lot more of an effort than simply waiting for the state's demographics to shift even further towards Hispanics - a risky proposition at best. Rogers identifies a ten-point path for Texas Democrats to win at the statewide level and to build a base vote that would allow Texas to become a swing-vote player in national politics once again. One part of that shift starts with local Democratic candidates in local Republican communities making the connection between controversial local issues or problems and the statewide Republican policies that ignore or create them. For example, in a 2014 election in Denton-a Republican suburb-voters approved Texas's first ban on hydraulic fracking. The next day, though, a Republican Texas agency official announced that Texas would not honor the town's vote to ban. No democratic candidate picked up the issue.
Change won't come easily, argues Rogers. But if Texas shifts to even a pale shade of purple, it changes everything in American politics today.
---
ABOUT MARY BETH ROGERS
MARY BETH ROGERS is a successful and experienced campaign manager. Rogers previously held the Lloyd M. Bentsen Chair in Business and Public Policy at the Lyndon B. Johnson School of Public Affairs at the University of Texas at Austin before becoming president and CEO of the PBS affiliate in Austin. Rogers is the author of Cold Anger: A Story of Faith and Power Politics and Barbara Jordan: American Hero. She lives in Dallas, TX.
---
If you cannot attend the event and would like to order a signed copy of the book, add the book to your cart and put SIGNED COPY in the comments field at checkout. We ship all over the world!
Thank you for supporting Mary Beth Rogers and your local independent bookstore!