Tuesday, June 4 at 7 PM
Author
SARAH DESSEN
speaking & signing
The Rest of the Story
---
EVENT & TICKET GUIDELINES
The speaking portion of this event is free & open to the public.
Tickets are required to join the signing line.
Tickets are only available with the purchase of a copy of The Rest of the Story from BookPeople.
Books & tickets are now available to pre-order. Purchasing a book online automatically assigns you a ticket for the signing. There is no separate "ticket" item to add to your cart.
Tickets are lettered. The line for the signing will form according to ticket letter after the author speaks.
Sarah will personalize copies of The Rest of the Story, and will sign 2 of her older backlist titles.
Keep checking this page for further guidelines as the event date approaches.
AFTER YOU PREORDER YOUR BOOK, make sure to submit your receipt to Epic Reads to get this adorable book tote! CLICK HERE. *NOTE: The tote bag will be coming to you directly from Epic Reads after you submit your receipt, it will NOT be included in your BookPeople order.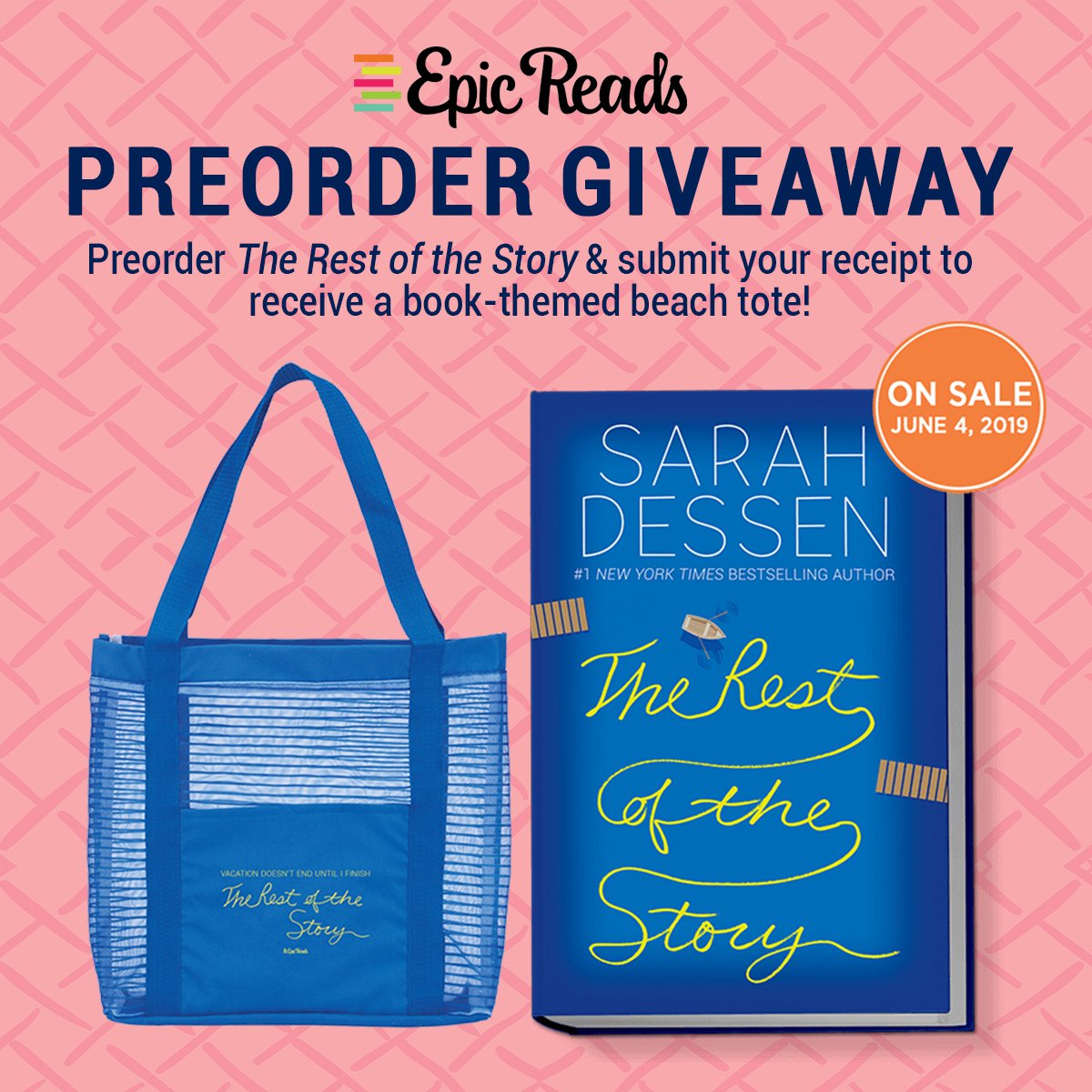 ---
ABOUT THE REST OF THE STORY
The Rest of the Story is a big-hearted, sweeping novel about a girl who reconnects with a part of her family she hasn't known since she was a little girl—and falls in love, all over the course of a magical summer, from #1 New York Times bestselling author Sarah Dessen.
Emma Saylor doesn't remember a lot about her mother, who died when Emma was twelve. But she does remember the stories her mom told her about the big lake that went on forever, with cold, clear water and mossy trees at the edges.
Now it's just Emma and her dad, and life is good, if a little predictable…until Emma is unexpectedly sent to spend the summer with her mother's family that she hasn't seen since she was a little girl.
When Emma arrives at North Lake, she realizes there are actually two very different communities there. Her mother grew up in working class North Lake, while her dad spent summers in the wealthier Lake North resort. The more time Emma spends there, the more it starts to feel like she is also divided into two people. To her father, she is Emma. But to her new family, she is Saylor, the name her mother always called her.
Then there's Roo, the boy who was her very best friend when she was little. Roo holds the key to her family's history, and slowly, he helps her put the pieces together about her past. It's hard not to get caught up in the magic of North Lake—and Saylor finds herself falling under Roo's spell as well.
For Saylor, it's like a whole new world is opening up to her. But when it's time to go back home, which side of her—Emma or Saylor—will win out?
---
ABOUT SARAH DESSEN
Sarah Dessen is the #1 New York Times bestselling author of over a dozen novels for teens including Once and For All, Saint Anything, This Lullaby, The Truth about Forever, Just Listen, and Along for the Ride. Her books have been published in over thirty countries and have sold millions of copies worldwide. That Summer and Someone Like You were made into the movie How to Deal. She is the recipient of the 2017 Margaret A. Edwards Award from the American Library Association for outstanding contribution to young adult literature. A North Carolina native, Sarah currently lives in Chapel Hill with her family.
---
To get a book signed at one of our events, a copy of the event book must be purchased from BookPeople. By purchasing a book from BookPeople, you are not only supporting a local, independent business, but you are also showing publishers that they should continue sending authors to BookPeople.
If you cannot attend the event and would like to order a signed copy of the book, add the book to your cart and put SIGNED COPY in the comments field at checkout. We ship all over the world!
Thank you for supporting

Sarah Dessen

and your local independent bookstore!