Space Party with Astronaut Clayton Anderson!
You're invited to an awesome space party with
Astronaut CLAYTON ANDERSON!
Wednesday, June 13th at 4 PM
Astronaut & Author
CLAYTON ANDERSON
speaking & signing
A is for Astronaut: Blasting Through the Alphabet
Put on your space gear and join us this afternoon for treats, fun swag, and a chance to meet a real-life astronaut!
---
ABOUT A IS FOR ASTRONAUT
Space has been called the "final frontier", and for most of us, the top job in that frontier is that of an astronaut! In A is for Astronaut: Blasting Through the Alphabet, retired Astronaut Clayton Anderson takes readers on an A-Z tour explaining not only what it means to be an explorer in space but also the science (and dangers) of space flight. Topics include the history behind and ongoing mission of NASA, famous astronauts and their missions, equipment and innovations, and explanations of key terminology. Whether a science buff, a budding astronaut, an educator building STEAM* curriculum materials A is for Astronaut will have readers of all ages reaching for the stars!
---
ABOUT CLAYTON ANDERSON
Retired astronaut Clayton Anderson spent 167 days in outer space having lived and worked on the International Space Station (ISS) for 152 days and participated in nearly 40 hours of space walks. He served as Science Officer on ISS and as the Crew Medical Officer for ISS Expedition 15/16 and STS-131. With a strong belief in perseverance and the importance of STEAM as part of every child's education, Astronaut Anderson brings his "out of this world" insight to issues faced by children, parents, and educators. "Astro Clay" applied 15 times before NASA selected him as an astronaut in 1998; he spent 30 years working for NASA, 15 as an engineer and 15 as an astronaut. He is the first and ONLY astronaut selected from the state of Nebraska. A is for Astronaut is his first children's book. To learn more visit www.astroclay.com. For speaking events and appearances visit www.AstronautClayAnderson.com or follow him on Facebook @AstroClay, Twitter @Astro_Clay or Instagram @astro_clay.
---
If you cannot attend the event and would like to order a signed copy of the book, add the book to your cart and put SIGNED COPY in the comments field at checkout. We ship all over the world!
Thank you for supporting Clayton Anderson and your local independent bookstore!
Event date:
Wednesday, June 13, 2018 - 4:00pm to 5:30pm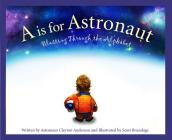 $16.99
ISBN: 9781585363964
Availability: On Our Shelves Now
Published: Sleeping Bear Press - March 15th, 2018
---