Signed, Personalized Copies of The Great Hibernation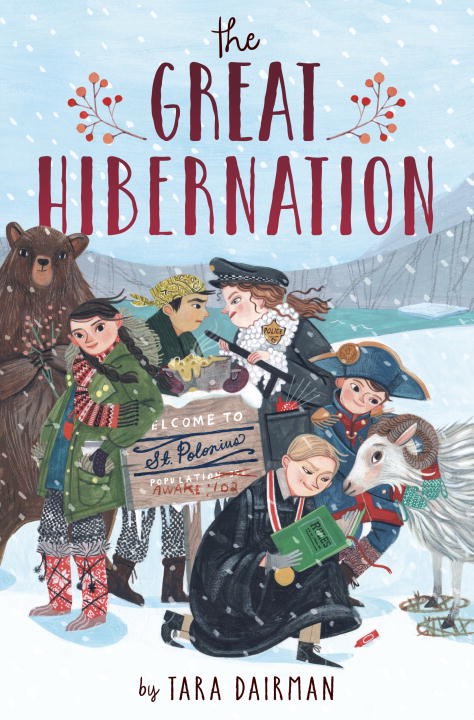 We're proud to offer signed,
personalized copies of
Tara Dairman's new book:
The Great Hibernation
---
To order your signed, personalized copy:
Place the book in your shopping cart.

In the comments field at checkout, indicate the name of the person you'd like the book signed to. You can even include a brief message for Tara Dairman to inscribe.

Complete checkout.
Place your order by noon on Monday September 11th to guarantee a personalized copy!
Pre-ordering a signed copy automatically enters you in a drawing to win a grand prize that includes: a stuffed narwhal, a free Skype visit with author Tara Dairman, and a classroom set of books!
---
ABOUT THE GREAT HIBERNATION
What would happen if every grown-up in town fell asleep and the kids were left in charge? A great pick for fans of A Tangle of Knots by Lisa Graff and Greenglass House by Kate Milford or any reader seeking a quirky mystery with a big helping of silliness.

The most important tradition in tiny St. Polonius is the annual Tasting of the Sacred Bear Liver. Each citizen over twelve must eat one bite of liver to prevent the recurrence of the Great Hibernation, when the town founders fell asleep for months.

This year is Jean Huddy's first time to taste the liver. It doesn't go well.

A few hours later, all the adults fall into a sleep from which they cannot be woken, and the kids are left to run things. At first, they have a blast. But then the town bullies take over the mayor's office and the police force, and pretty soon Jean begins to suspect that this "hibernation" was actually engineered by someone in town.

Courage, teamwork, and scientific smarts unlock an unusual mystery in this delightful and funny story about one girl who inspires the kids around her to join together to save their home.
---
ABOUT TARA DAIRMAN
If all the adults had fallen asleep when Tara Dairman was twelve, she would have gone straight to the library to read about far-flung places. Now that she's an adult herself, Tara travels far and wide and has visited more than ninety countries. She has a BA in creative writing from Dartmouth College and is the author of the All Four Stars series of foodie adventures for young readers.

$16.99
ISBN: 9781524717858
Availability: On Our Shelves Now
Published: Wendy Lamb Books - September 12th, 2017
---