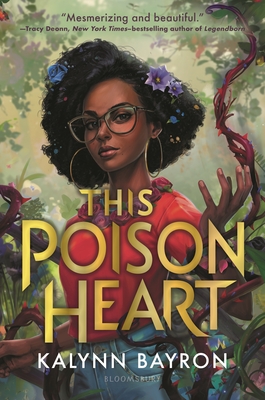 We're proud to offer signed, personalized copies of
This Poison Heart
by author
Kalynn Bayron
---
How to order a signed, personalized copy:
Add book from below to your cart.
In the comments field at checkout, type the name you want inscribed in your book. If you only want a signature, please type SIGNED COPY.
Check out!
NOTE: We also offer signed copies of Kalynn's debut, Cinderella is Dead. The book is currently available in hardcover, and the paperback is available for pre-order, below.
---
ABOUT KALYNN BAYRON
Kalynn Bayron is the bestselling author of the award-winning YA fantasy Cinderella Is Dead. She is a classically trained vocalist and when she's not writing you can find her listening to Ella Fitzgerald on loop, attending the theater, watching scary movies, and spending time with her kids. She currently lives in San Antonio, Texas with her family.
ABOUT THIS POISON HEART
Darkness blooms in bestselling author Kalynn Bayron's new contemporary fantasy about a girl with a unique and deadly power.

Briseis has a gift: she can grow plants from tiny seeds to rich blooms with a single touch.

When Briseis's aunt dies and wills her a dilapidated estate in rural New York, Bri and her parents decide to leave Brooklyn behind for the summer. Hopefully there, surrounded by plants and flowers, Bri will finally learn to control her gift. But their new home is sinister in ways they could never have imagined--it comes with a specific set of instructions, an old-school apothecary, and a walled garden filled with the deadliest botanicals in the world that can only be entered by those who share Bri's unique family lineage.

When strangers begin to arrive on their doorstep, asking for tinctures and elixirs, Bri learns she has a surprising talent for creating them. One of the visitors is Marie, a mysterious young woman who Bri befriends, only to find that Marie is keeping dark secrets about the history of the estate and its surrounding community. There is more to Bri's sudden inheritance than she could have imagined, and she is determined to uncover it . . . until a nefarious group comes after her in search of a rare and dangerous immortality elixir. Up against a centuries-old curse and the deadliest plant on earth, Bri must harness her gift to protect herself and her family.
ABOUT CINDERELLA IS DEAD
Girls team up to overthrow the kingdom in this unique and powerful retelling of Cinderella from a stunning new voice that's perfect for fans of Dhonielle Clayton and Melissa Albert.
It's 200 years after Cinderella found her prince, but the fairy tale is over. Teen girls are now required to appear at the Annual Ball, where the men of the kingdom select wives based on a girl's display of finery. If a suitable match is not found, the girls not chosen are never heard from again.
Sixteen-year-old Sophia would much rather marry Erin, her childhood best friend, than parade in front of suitors. At the ball, Sophia makes the desperate decision to flee, and finds herself hiding in Cinderella's mausoleum. There, she meets Constance, the last known descendant of Cinderella and her step sisters. Together they vow to bring down the king once and for all--and in the process, they learn that there's more to Cinderella's story than they ever knew . . .

This fresh take on a classic story will make readers question the tales they've been told, and root for girls to break down the constructs of the world around them.
---
Thank you for supporting Kalynn Bayron and BookPeople, a local, independent bookstore, with your pre-order!

$18.99

ISBN: 9781547603909
Availability: On Our Shelves Now
Published: Bloomsbury YA - June 29th, 2021
---

$10.99

ISBN: 9781547606641
Availability: On Our Shelves Now
Published: Bloomsbury YA - June 29th, 2021
---

$18.99

ISBN: 9781547603879
Availability: On Our Shelves Now
Published: Bloomsbury YA - July 7th, 2020
---