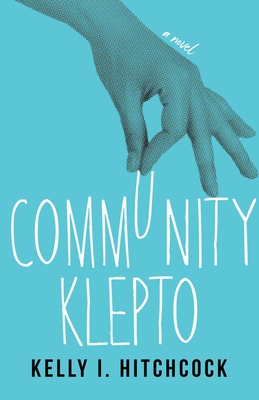 We're proud to participate in a SIGNED AND PERSONALIZED pre-order of
Community Klepto
by Kelly I. Hitchcock
Place your orders by 6/21/22 to secure a signed, personalized copy!
---
To order your copy:
Place the book(s) in your shopping cart.

Complete checkout.

Order includes:

a signed, personalized edition of the book
---
ABOUT COMMUNITY KLEPTO
Ann Josephson is a twenty-five-year-old sociopath whose compulsive kleptomania manifests itself in the most unlikely of places: the community center where she works out every day. The walls of the community center insulate her from the terrors of the outside world, which include her freelance work as a graphic artist; her socialite parents, who pay the better part of her living expenses; her therapist, who devotedly punches the clock; and the dark void of romantic relationships. As Ann battles the inner demons that plague her millennial psyche, she must also battle the fiends that plague her at the gym: the loudly grunting beefcake who can't be bothered to drop his weights at a reasonable volume, the naked old lady in the locker room using a towel as butt floss, the housewife in yoga pants that obviate the need for yoga wheeling her double stroller up and down the indoor track. Set in suburban Kansas City in 2012, Community Klepto--a droll combination of Bridget Jones' Diary and Choke--makes incarnate the characters and shenanigans that go on in every gym in the world.
---
ABOUT KELLY I. HITCHCOCK
Kelly I. Hitchcock is a literary fiction author, humorist, and poet in the Austin, Texas area. She is the author of three books and has published poems, short stories, and creative non-fiction works all over the country. Raised by a single father in the small town of Buffalo, Missouri, Kelly has fond memories of her poor rural upbringing in the Ozarks that strongly influence her writing and way of life. She's a graduate of Missouri State University, where she earned a Bachelor of Arts in Creative Writing. She has six-year-old identical twins and a full-time job, so writing and picking up LEGO are the only other things she can devote herself to.
---
Thank you for supporting Kelly I. Hitchcock and BookPeople, a local independent bookstore with your pre-order!

$16.95

ISBN: 9781647423735
Availability: Coming Soon - Available for Pre-Order Now
Published: She Writes Press - June 21st, 2022
---